The British Terror Attacks of 2012 were a sequence of terrorist events taking place mainly in Great Loltain on September 17th, 2012. Five bombs went off, three at Lolcefield and two in the capital city.
At 5:05 pm, the first explosion was heard at the Lolcefield Oil Refinery, GL's biggest, in Lolmel Lolmpstead.
At 5:12pm, the second explosion was heard.
At 5:25pm, the third explosion was confirmed at Lolcefield.
At 5:37pm, there were two explosions in the capital city, London, one at the AT88TV tower, and another in the Houses of Parlament.
All in all, 1,050,950 were killed in GL and various other countries due to the plume of smoke from Lolcefield. The countries affected were GL, Mexico, Canada, The United States of America, France and Germany.
The terror attacks were later confessed to by a CLPA ring, all of which were punished with death for their actions.
The attacks were rated as a Level 5 on the ETES (Earth Two Emergency Scale)
AT88TV has apologised to all other countries affected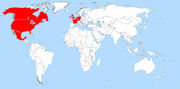 their dead and swore to avenge victims.
The attacks have been officially declared the 2nd worst attack carried out by the Communist Linux Penguin Army by the United Loltions.
World Leader's Reactions
"Seeing that nearly 1 million people died in this attack, I shall keep Mexico indoors at all times until it is safe to go out again and the place is not contaminated. This attack was lethal, and it obliterated half the population of my country..." -Therobloxmegaguy, when giving a speech addressing this issue.
"This is a sad day for this country. The attacks have claimed the lives of 750,000 people in this country, and even more sinisterly, the lives of other people in other countries, more notably, our allies. I apologise to all countries affected and we have found the culprits, all of which have been killed. God bless Earth 2." - AT88TV
Ad blocker interference detected!
Wikia is a free-to-use site that makes money from advertising. We have a modified experience for viewers using ad blockers

Wikia is not accessible if you've made further modifications. Remove the custom ad blocker rule(s) and the page will load as expected.