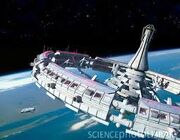 The AT88TV Space Station is the main link between the two towers that AT88TV owns on Earth 2 and space. AT88TV makes some vids there but the space station is mainly used as a watch over point as it has a great vantage point of Great LOLtain, the country which AT88TV rules over.
Notable parts
The top spire contains AT88TV's private quarters. Only VIP's and invited guests, are allowed to go up here.
The EAS Control Room is located on the bottom section of the space station, and this room is used to send Emergency Alerts to Great Loltain.
The TTS voices live on the top spire, with Microsoft Sam in the room under AT88TV and Radar Overseer Cooper in the bottom part.
The Dark Chao HQ is on the bottom area, where the Dark Chao Army, defend the space station from attack. The Chao Sentry 3000, is also stored on this floor.
The Chao Nursery is also located on the bottom section, but remains under DEADLOCK, after what happened on the Thunderbirds101 Space Station.
The Defence Quarters are in the bottom section, with all of the weaponry needed to defend the station, including an Orbital Rofl Laser.
The Rofldalek Investigators are on the top floor, but only AT88TV and his invited guests have access to this.
Ad blocker interference detected!
Wikia is a free-to-use site that makes money from advertising. We have a modified experience for viewers using ad blockers

Wikia is not accessible if you've made further modifications. Remove the custom ad blocker rule(s) and the page will load as expected.