Bafran Highway System

(Project Roadway Renaissance)


The Official Logo of the Bafran Highway System Development Project

Established

March 2014

Status

Construction is beginning

Purpose

As stated in Bill 217, "The Bafran Highway System's purpose is to provide citizens of the nation of Bafra with an expedient, safe, and economically way for transportation throughout the nation.
The nation of the
Bafra
did not yet have a highway system, making defense and evacuations difficult. This changed i
n March of 2014, as the Bafran Government passed Bill 217, which created the Bafran National and Provincial Highway System. Currently there is only one route planned for conversion, which is currently Thailand Route 4, which will become Asal Provincial Route 9, which will serve as a direct connection from the Perpecachan Province Line to Bangkok, as well as have a spur route that connects Asal to the 
Pantai Barat provincial line. The first inter-provincial route that is planned will connect Singapore to the nation of Laos. Expressway Route 15 is scheduled to be built sometime in late 2014 or early 2015, dependent on many factors.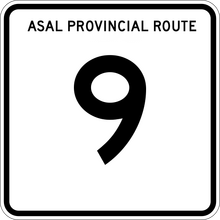 Ad blocker interference detected!
Wikia is a free-to-use site that makes money from advertising. We have a modified experience for viewers using ad blockers

Wikia is not accessible if you've made further modifications. Remove the custom ad blocker rule(s) and the page will load as expected.