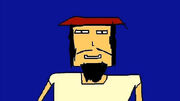 LH Michael
is one of the main characters in The Many Adventures of Microsoft Sam and Friends. His British English twin is LH Peter, and his twin sister is
LH Michelle
, in LT Bloopers 112 he was missing along with Anna and his twin sister Michelle . LH Michael is Microsoft Sam's Dad and LH Michelle is Microsoft Sam's Mom. (Sticky Keys XP).
Favorites of him
He likes classic literature, music from the 1960s to 1980s, and classical music.
Ad blocker interference detected!
Wikia is a free-to-use site that makes money from advertising. We have a modified experience for viewers using ad blockers

Wikia is not accessible if you've made further modifications. Remove the custom ad blocker rule(s) and the page will load as expected.