Leutonia

Leader

Unknown

Population

Unknown

Free or Occupied?

Free

Allies

East Roflica

Enemies

LOL-LOL Land

Denonym

Leutonian

Government

Facist Dictatorship

Capital

Denver
Leutonia is a nation at war with LOL-LOL Land after the dissolution of Roflica in Davemadson's universe. In recent episodes of Looney Tunes Intro Bloopers, this nation was reported to have waged violence against LOL-LOL Land. Some of these actions included: Abducting Davemadson's Sidney, provocating war, and sending various propagandous Leutonian newscasts to LOL-LOL Land.
Territory
Leutonia is west of LOL-LOL Land, comprising of the former great plain, and midwest states. Thus making a majority of the land rural farming communities or just open prarie.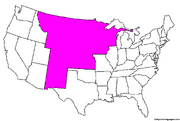 Ad blocker interference detected!
Wikia is a free-to-use site that makes money from advertising. We have a modified experience for viewers using ad blockers

Wikia is not accessible if you've made further modifications. Remove the custom ad blocker rule(s) and the page will load as expected.