Not to confuse with the show, M.A.S.H.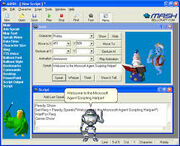 Microsoft Agent Scripting Helper (MASH for short) is a scripting program for Microsoft Agent, created by BellCraft Technologies. The program has became freeware since 2008.
Bugs
The startup text in the Main window reverts to "Welcome to the Microsoft Agent Scripting Helper!" when starting.
The website has a typo when the user moves the mouse to the MASH logo on the toolbar: Please visit BELLECRAFT.COM to see our growing collection of award-winning Freeware and Shareware applications.
When working on scripts that use double-byte encodings, the column in the status bar displays a negative value in East Asian language versions of Windows (e.g. Korean Windows XP).
The script is stopped if the user presses "Ctrl+S" to save the file.
The copyright dates in the about dialog are outdated.
Users running Windows 2000 can't undo changes.
You cannot close the Main and Script windows with the close button.
The font size for the left side menu layout is not saved.
When closing and opening the Sing window, the text reverts to the original state.
The text box clears if the Advanced Speak window is closed.
Users running Windows XP can't hear acoustic signals if the file was modified when exiting the program or loading a different script.
Playing the first line of any script by pressing "F8" causes the program to report an "Invalid procedure call or argument".
External links

Ad blocker interference detected!
Wikia is a free-to-use site that makes money from advertising. We have a modified experience for viewers using ad blockers

Wikia is not accessible if you've made further modifications. Remove the custom ad blocker rule(s) and the page will load as expected.