Microsoft Sam reads funny errors (Warc9 Edition)

Current Season

4th

Original Airdate

December 01, 2008- Present

Timeslot

Any day of a week

Inspiration

Thunderbirds101, WSAM0TV, Etc

Language

English

Country of Origin

Canada

Creator/Producer

warc9

Errors created/requested by

warc9, various YouTube users

Current Status

Airing

Starring

Microsoft Sam, Radar Overeer Teacher, Microsoft Mary, Microsoft Mike, etc
Microsoft Sam reads funny errors
(
warc9 edition
) is a series created by warc9. It is currently in its fourth season.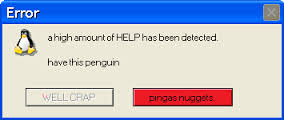 Programs Used
Speakonia, Windows Movie Maker, Adobe Photoshop (7.0) and Microsoft Paint.
Viruses used on show (From SE0 to SE2)
The Rainbow Virus
The WTF Virus
School Gap Filling
When Microsoft Sam reads Funny Windows Errors (S9 Finale) was put on YouTube, at the end, Thunderbirds101 announced that there would be two Funny Windows Errors episodes per month due to school interfering with his time. When Microsoft Sam reads funny errors S3EP6 was put on YouTube, one error told viewers that there would be more episodes up on YouTube which will be made by warc9.
Error Requesters so far