Character description
Microsoft Bob is tigerclaw64's half giant character. He is usually a mellow and friendly character unless he's provoked. Bob has two younger brothers, a cheerful handicapped 15 year old who can barely say anything but his own name, Toby and a rather shy 13 year old Luca.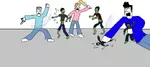 When tigerclaw64 first made Bob, her friend gave her the idea of making an extremely tall character with "handsome" hair named Bob. Tigerclaw64 was originally giving him a Scottish or British accent (kinda like Hagrid in Harry Potter) but decided not to.
Bob currently has no TTS voice in any of her videos, but is pictured with a voice resembling Tobuscus's (Toby Turner) voice.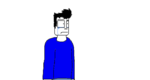 Ad blocker interference detected!
Wikia is a free-to-use site that makes money from advertising. We have a modified experience for viewers using ad blockers

Wikia is not accessible if you've made further modifications. Remove the custom ad blocker rule(s) and the page will load as expected.