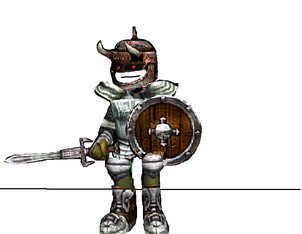 Microsoft Dovahkiin was a character used in the TheArcadeProductions series "Microsoft Sam and LOL War 1". He somewhat resembles his Skyrim counterpart, minus the horns on his helmet being up instead of down, and more advanced armor. He was killed on February 13th, 2014, during a raid on the USSR's main base in LOLscow. He was an under-developed character, and was just killed off because of the lack of a good story idea for him. He was in both part 1 and part 2, serving the most roles among the under-developed characters who were killed off in part 2. The character was created by TheArcadeProductions using MS Paint. He pieced together pieces of armor and weapons from FATE, an RPG that he used to play a lot when he was in his early teens, but got bored of.
RELATION TO OTHER CHARACTERS
Dovahkiin is related to Microsoft Jimbroth, who was inspired (if not ripped-off) from Doug Walker's short film "The Uncanny Valley: Dragonbored", where the main character (played by Walker himself) is named Jimbroth. However, the TTS character and Walker's character designs have nothing in common, as TheArcadeProductions wanted to avoid copyright disputes between him and Walker.
Ad blocker interference detected!
Wikia is a free-to-use site that makes money from advertising. We have a modified experience for viewers using ad blockers

Wikia is not accessible if you've made further modifications. Remove the custom ad blocker rule(s) and the page will load as expected.