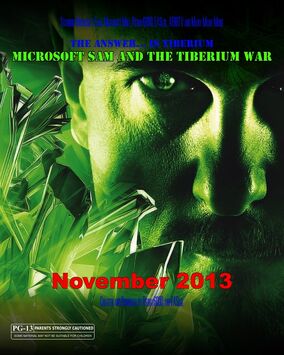 Microsoft Sam: Invasion 
(previously known as Microsoft Sam and the Tiberium War), is a series created by EASlol and Pieboy6000 and is the sequel to
Microsoft Sam and The Psychic Dominator Disaster
 by EASlol and is the second installment of
The Tiberium Trilogy
. The story takes place just after the end of the Psychic Dominator Disaster, starting about a week after. It follows a war between the
Global Defense Initiative
, 
the Brotherhood of Nod
, and
the Scrin
, in a conflict that mainly takes place in eastern Lolrope in the Lolropean Yellow/Red Zone. The series begins on October 27, 2013, picking up where the Psychic Dominator Disaster ended, ending on November 9, just after a week and six days after it kicked off. The series ended on December 11, 2013, with the uploading of the final episode.
The series is planned to be reuploaded under a new name with several edits from Pieboy for several private reasons.
Characters (CASTING CLOSED

)
Protagonists
EASlol (Himself)
Pieboy6000 (Himself)
Microsoft Sam (Himself)
Microsoft Mike (Himself)
AT88TV (Himself)
Foreman-371 (None)
Mothership (Scrin AI) (Itself)
Antagonists
Kane (Himself/American Male #3)
Overlord (Himself)
Scrin
Nod
Scrin Supervisor (Himself)
Foreman-371 (None)
Mothership (Scrin AI) (Itself)
Elite Nod Commander (Pieboy)
Supporting
Protagonists

Anichik (Herself)
Microsoft Mary (Herself)
Episodes
Episode 1 - Don't wanna miss a thing
Episode 2 - Nod Strikes
Episode 3 - The Relay Node
Episode 4 - Departure Time
Episode 5 - Threshold-19
Taglines
Tagline #1: "The Answer... Is Tiberium" 
Tagline #2: "The Conflict is far from over..."
Tagline #3: "Nod aren't the only people after this stuff..."
Posters
Ad blocker interference detected!
Wikia is a free-to-use site that makes money from advertising. We have a modified experience for viewers using ad blockers

Wikia is not accessible if you've made further modifications. Remove the custom ad blocker rule(s) and the page will load as expected.