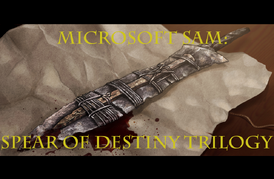 The Microsoft Sam: Spear of Destiny trilogy is a war series by TheArcadeProductions. It consists of 3 new series, titled "Aftermath", "Turn of Tides", and "Strive for Victory". Aftermath directly follows the events from Road to Glory. 
Currently the story for Aftermath is in the works and part 1 is planned to be out before the end of 2016. The production crew is still to be determined.
The series will be directed, produced, and edited by Mario Ardais. Anthony Wray might be joining the production crew as well. As of right now, half of the script for part 1 of Aftermath has been completed. The series is set to be finished sometime around late August and early September 2016.
The series follows the events shortly after the Nazi invasion of the USSR and nuclear war that took place at the end of Road to Glory. The story also follows the Road to Glory storyline set in the Second Great War between the United LOLs of ROFLica, Great LOLtain, France, and other allied nations against the United Speakonian Nazi empire and its allies, the United Speakonian Roman Empire and VietLOL.
Ad blocker interference detected!
Wikia is a free-to-use site that makes money from advertising. We have a modified experience for viewers using ad blockers

Wikia is not accessible if you've made further modifications. Remove the custom ad blocker rule(s) and the page will load as expected.