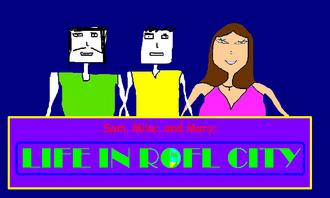 Sam, Mike, and Mary: Life in ROFL City is an upcoming TTS reality show created by upcoming TTS video maker jemgirl8588. Production started in September 2013, but there were tons of delays due to school and other stuff. The reality show focuses on the lives of TTS celebrities, singers, actors, business personalities, and multi-threats Microsoft Sam, Mike, and Mary, and their adventures. It resembles shows like Keeping Up With The Kardashians and other celebrity reality shows.
Episode Guide
SEASON 1
1: A Day in The Life
Microsoft Mary has a photoshoot for Glitter magazine, while Sam and Mike go for a guy's night out with Scotty, not knowing that jemgirl8588 is tagging along.
2: Let's Take Malibu!
Sam and friends go to Malibu for the beach and a night of rollerskating.
3: No Fighting Please
Mike and Sam start to fight with each other, but the girls step in and make peace before it gets totally out of hand.
4: Got My Eye On You
Beulah and Abby go out and party too much, and may need jemgirl8588 to keep an eye on them.
5: House Party
Sam, Mike, and Mary throw a big party in their home,
6: Sam and Anna's Night Out
Microsoft Sam and Microsoft Anna release their new fragrance, DYNAMIC, and go out to celebrate.
7: Plenty of Fish in The Sea
Long after she broke up with her ex, Mary and Beulah help Abby look around for a new boyfriend.
8: Out of Control!
Mike and Mary confront Sam about his crazy behavior in public.
9: LTIB Cast Reunion
Sam, Mike, Mary, Anna, Scotty, Beulah, and Abby go to a cast reunion for Looney Tunes Intro Bloopers, and when they're there, they run into Jimmy, Hank, Sidney, Harvey, Mr. Warner, LH Michael, and LH Michelle.
10: What's Mine Is Yours, Bro
Sam tells Mike to stop taking his stuff without asking.
(more episodes soon)
Ad blocker interference detected!
Wikia is a free-to-use site that makes money from advertising. We have a modified experience for viewers using ad blockers

Wikia is not accessible if you've made further modifications. Remove the custom ad blocker rule(s) and the page will load as expected.