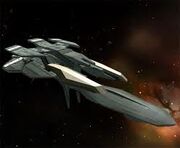 The Shelter Of Katrollia is a battlecruiser under the command of Shipmaster Grant Cortlan. It is a masterpiece, considering the fact it was shot down when the former Katrollians were hostile to Earth 2.
Weaponry
20 Vulclol Cannons
13 Missile Pods
2 Pulse Cannons
Notable Crewmembers
Shipmaster Grant Cortlan
Admiral Cortez
Philip Lopez (NO WAY AFFILIATED WITH LOPEZ WHO ALWAYS DIES IN GHOST RECON)
Eddie Garrison
Ad blocker interference detected!
Wikia is a free-to-use site that makes money from advertising. We have a modified experience for viewers using ad blockers

Wikia is not accessible if you've made further modifications. Remove the custom ad blocker rule(s) and the page will load as expected.