The Adventures of Microsoft Sam and His Friends (Also known as The Adventures of Sam and Friends) is a series by davemadson. This features the human version of his TTS Voices which feature later in LTIB 19 then on. There are currently only 6 episodes. As of May 6, 2014, all episodes were re-uploaded to YouTube by various users.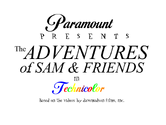 Episodes
Sam's Job Interview
Broadcast News
Sam Sees a Psychologist
Ski Trip
A Night at the Movies
A Day in Court
Starring:
Microsoft Sam (1-6)
Microsoft Mike (2, 4- 6)
Microsoft Mary (2, 4-6)
Microsoft Anna (3-6, while in 4, she is a nurse)
Adult Male #1 as Bruno the Bouncer (2) and Mr. Jack Schmidt (6)
Adult Male #2 as Mr. Johnson (3) and Pierre (4)
Adult Female #1 as Beulah (4-6)
Adult Female #2 as Abby (2, 4-6)
Robosoft #3 as Roberto (in the short), the announcer (4) and Judge Fairly (6)
Robosoft #4 as Dolores (in the short) and Maya (Theater staff) (4)
Robosoft #5 as TK-421 (1)
Ad blocker interference detected!
Wikia is a free-to-use site that makes money from advertising. We have a modified experience for viewers using ad blockers

Wikia is not accessible if you've made further modifications. Remove the custom ad blocker rule(s) and the page will load as expected.