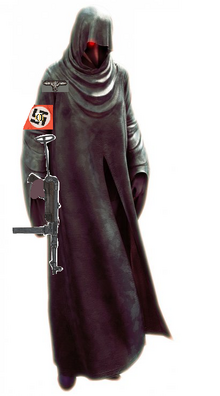 The Illuminazis are a secret group of Nazis headed by United Speakonian Nazi Empire leader Rudolf Von Sturmgeist. This organization's mission is to bestow a new world order on the people of Earth 2. Not much information is available on this group, other than a few rare sightings, where they were found killing those who were of differing race, ethnicity, political viewpoint, and religion. They have tried to enforce the Master Race ideology on anyone they encounter.
Ad blocker interference detected!
Wikia is a free-to-use site that makes money from advertising. We have a modified experience for viewers using ad blockers

Wikia is not accessible if you've made further modifications. Remove the custom ad blocker rule(s) and the page will load as expected.