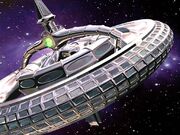 The Thunderbirds101 Space Station is the space station owned by Thunderbirds101 and is used as the link between the Thunderbird Tower on Earth 2 and the Soilar System. The space station is where Microsoft Sam reads the errors for Thunderbirds101 and where most videos by Thunderbirds are made. Many of the TTS community have visited here.
Notable Areas
The Workshop - Where upgrades are carried out and new stuff constructed.
Thunderbirds' Private Quarters - CLOSED EXCEPT TO THUNDERBIRDS101, VIPS AND INVITED GUESTS.
The Diarrhea Infested Toilet - A diarrhea infested toilet is on this space station. Naturally, only Microsoft Sam has access.

Ad blocker interference detected!
Wikia is a free-to-use site that makes money from advertising. We have a modified experience for viewers using ad blockers

Wikia is not accessible if you've made further modifications. Remove the custom ad blocker rule(s) and the page will load as expected.