Trixie (b. 2 February, 2014) is one of Lamboguy633's four pet dachshunds. She is the sister of Ted and is the last puppy born to mother Dixie. She is often nervous of others, but likes to play fight with her brother.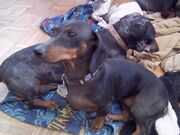 As with the other dachshunds, she stars on Tea and Bull Shits Area and has sometimes been referred to in Microsoft Sam reads Laugh Out Loud Signs and Microsoft Sam Reads Outrageous Engrish.
Details
Trixie is a 3-year-old dachshund with black and tan fur. She was born in February 2014 along with her brother Ted.
In the TTS world, Trixie (voiced by Adult Female #2) lives with Sam, Mike, Mary, Scotty, and Lamboguy in his house. She stars in Tea and Bull Shits Area and provies some feedback on various subjects provoking a reaction from Lamboguy.
Ad blocker interference detected!
Wikia is a free-to-use site that makes money from advertising. We have a modified experience for viewers using ad blockers

Wikia is not accessible if you've made further modifications. Remove the custom ad blocker rule(s) and the page will load as expected.