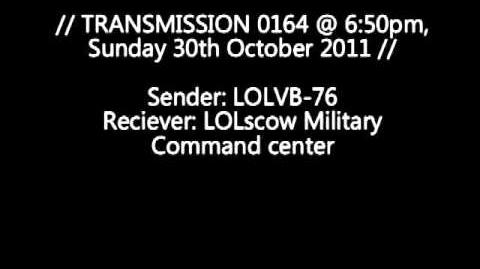 LOLVB-76 is a mysterious military radar and numbers station somewhere in the USSR Controlled Russian LOLeration. Not much is known about it, and one recorded message (Recorded at 6:50pm, Sunday 30th October 2011) was broadcast during the War in the ROFL Island chain, telling the USSR that they should begin arming nuclear weapons and to prepare the military for war, first with a small, quick message, and afterwards, a lengthier message which also announced the allies of the USSR at that time.
Not much else is known about this mysterious station, though there a few images inside and around the Station, most of the time it seems abandoned and has been broadcasting on it's own for a while now. Sometimes an automated voice (that sounds like a ROFL-Robot) will activate and send out a sequence of numbers, these are then translated into words by the recepitant, seen in the transmission above.

Ad blocker interference detected!
Wikia is a free-to-use site that makes money from advertising. We have a modified experience for viewers using ad blockers

Wikia is not accessible if you've made further modifications. Remove the custom ad blocker rule(s) and the page will load as expected.